Precalculus
The following sample questions do not appear on an actual CLEP examination. They are intended to give potential test-takers an indication of the format and difficulty level of the examination and provide content for practice and review. For more sample questions and information about the test, see the CLEP Official Study Guide.
Question 1 of 6
Questions 1-4 are examples of questions that you might find in Section 1 of the exam; the use of a graphing calculator would be appropriate.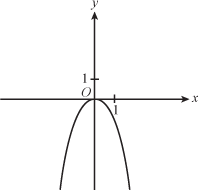 The function ƒ defined by ƒ(x) = −x2 is graphed in the xy-plane above. The graph of the function g is obtained by reflecting the graph of

across the line y = 1. What is the value of g(4)?
A.

14

B.

15

C.

16

D.

17

E.

18
Purchase and Prepare