Testimonials
Soaring, with CLEP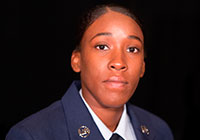 Alicia Hunt, Crestview, TX
University of Maryland University College (UMUC)
After Alicia Hunt graduated high school magna cum laude she decided to enter the U.S. Air Force. Today, four years later, she's a proud member of the USAF Honor Guard, and she's also saved "several thousand dollars and months and months of time" by earning college credit through CLEP. Alicia estimates she's taken about 12 CLEP Exams, which the military provides at no cost to active duty military service members, helping her earn two associate degrees in just five months. In a little over a year, Alicia will have a bachelor's degree, too. Without CLEP, she says, "it would have taken me so much longer to accomplish all this." Now, whenever Alicia meets new people on her Air Force base, she says, "I make sure to tell them about CLEP."
---
CLEP Gets His Vote
Bob Barnett, St. Paul, MN
Mankato State University
In addition to working in marketing research at the Hazelden Betty Ford Foundation, Bob Barrett represents District 32B in the Minnesota House of Representatives. He's on the House Higher Education Committee, and has himself earned college credit through CLEP. Some twenty years after graduating college, Bob learned he could get his active CPA license. Among the stipulations: he needed 16 more college credits. "I asked myself how I was going to do that with two jobs, and being a dad and a husband," he said. Bob researched his options and found CLEP. "CLEP—it sounded too good to be true," he said. Bob went on to take and pass four CLEP Exams. Without CLEP, he said, earning that credit would've taken him months—maybe even years. "I thought the hardest part of getting my active CPA license would be getting the 16 college credits," Bob said. "With CLEP, that turned out to be the easiest part."
---
A Debtless Degree, with CLEP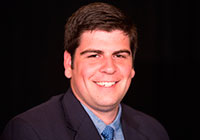 Matthew Frame, Ramsey, MN
Thomas Edison State College
Matt Frame's parents didn't want him to graduate college with mounds of debt, so they encouraged him to start earning credit, inexpensively, while still in high school. Matt ended up taking 17 CLEP Exams, earning 66 credits, and spending just $6,000 to get his bachelor's degree. "I am so grateful I don't have college debt, thanks to CLEP," Matt said. After earning his B.A. in History, Matt was able to live and work in Washington, D.C., for two years, without worrying about mounting student loan payments. "The path I took wouldn't be possible, for me or any student, if it wasn't for CLEP," he said.
---



Video Transcript

CLEP Video Script

CLEP is the fast track to your educational future.

It saves you time and money by granting you credit for what you know.

Offered at over 1800 test centers and accepted by over 2900 universities worldwide, CLEP covers 33 subjects at just $80 per exam.

CLEP is for high school, college, homeschool, military, all ages. CLEP is for everyone.

Join over three million students who have found success with CLEP.

CLEP is for Everyone

CLEP is the fast track to your educational future.

Kaitlyn O. Rawlings

Student

Thomas Edison State College

"As a junior in high school looking to earn dual credit, I learned about CLEP from my parents, who have always been avid proponents of distance learning. My first CLEP was College Composition with Essay. After I passed, I was hooked! This marked the beginning of an amazing journey, as I continued to CLEP through the General Education requirements of my Bachelor's degree. I earned over 40 credits through CLEP and completed my entire BA in English in just a year and a half, all thanks to CLEP! — and, of course, my parents, for encouraging me in the first place. CLEP is the way to go!"

Jeffrey R. Worsham

Student

University of Oklahoma

"CLEP helped me get credit for a quarter of my degree without any classes, professors or costly textbooks. If you are already good at math or have a passion for writing, why take a 12 week class with endless amounts of homework and lectures? A study guide, some practice questions and what you already know can get you college credit in just a few weeks. CLEP saved me a year of college and over $10,000! Thanks CLEP!"

Megan Melton

Student

Front Range Community College

"I decided to return to college after taking over 10 years off, and my goal was to complete my degree as quickly as possible. Being 30 and a nontraditional student I had no desire to take the prerequisite courses and sit in a classroom with true freshmen students. CLEP offered me a fast, easy and inexpensive option to earn credit for my prerequisite courses in just one test. As a full-time student, mom and employee, my time is very tight. Thanks to CLEP, I have been able to take only 12 credits per semester and still complete my degree in under four years."

Alexis Youngblood

Student

Rock Valley Community College

"The CLEP exams have been an enormous blessing to me. Taking the College Mathematics and the College Composition tests saved me time and money, and I got ahead of schedule to graduate with an associate of arts degree. It also saved me approximately $570, which went toward a new laptop. Because the requirement to graduate with an A.A. was to complete only three credits of college math, the CLEP exam fulfilled the entire requirement. I took the test early and was able to really focus on the classes important to my major."

Abe Sanchez

Student

Texas A&M International University

"Thanks to TAMIU's credit-by-exam policy and College Board's CLEP program, I was able to meet my foreign-language graduation requirements as well as advance to my junior-level Spanish class. CLEP allowed me to save time, money and shorten my path to graduation. CLEP truly rewards you for what you know."

Shane Baumgardner

Student

Home School

"CLEP has drastically changed — and improved — my college education. Over the course of eight months, I took 16 CLEP examinations for over 45 credits. As you can imagine, that greatly accelerated my college education. In fact, thanks to CLEP, I'm going to graduate with a bachelors degree in political science at age 18, only one year after graduating high-school. CLEP has saved me money, time and given me an opportunity to learn and retain the subject matter. I can't recommend CLEP tests enough as a way to accomplish your lower-level courses in college."

John C. Donaldson

Student

Hennepin Technical College

"CLEP testing has helped me to save money, time and energy by conserving the resources I spend on school, allowing me to gain a degree in less time, and giving me more mental and physical energy to spend on other activities than I would gain by taking regular college courses."




Video Transcript

(Lower Third @ 0:06)

Richard L. Crothers / Assistant Academic Advisor / St. Leo University, VA

"The biggest benefit of the CLEP Program is that you can walk into any of the CLEP testing centers across the nation, sit down for like an hour and half and walk out the door with college credit."

(Lower Third @ 0:20)

Charles Cress Colbert / Testing Coordinator / University of Wisconsin La Crosse, WI

"Students who do well in a CLEP exam and get credit, their interest is peaked and they will often go on to take a course at a higher level in that same subject area and they tend to do better."

(Lower Third @ 0:30)

Sharon Ercy / Testing Coordinator / Western Kentucky University, KY

"In 90 minutes they can take a test and get out of a course [when] the only other way they can get out of it is to take a class for 16 weeks."

(Lower Third @ 0:39)

Chantel Reynolds / Senior Assessment Manager / Southwestern Region

"A student who takes a CLEP exam is saying and demonstrating that they have the same knowledge and skills right now as a student who completed a full 16 week course in that subject."

(Lower Third @ 0:51)

Joleen Reynolds / Director of Testing Services / University of San Antonio, TX

"We combine what they already have, build upon that foundation through CLEP, and then give them some scaffolding for some new learning."

(Lower Third @ 1:03)

Cindy Sproehnle / Assessment Center Director / Gateway Community & Technical College, KY

"The ability to earn college credit for about a tenth the cost of a college class is an incredible value."

(Lower Third @ 1:09)

Lynne Nelson / Manager of External Testing & Operations / Mercer County Community College, NJ

"Often the textbook costs more than the CLEP exam."

(Female speaker @ 1:15)

"Hey if you have this knowledge and you can exhibit it and at this time and this time, 90 minutes, it's a huge advantage."

(Lynne Nelson @ 1:21)

"It's the best monetary deal around."

(Lower Third @ 1:27)

Cheryl Downey-Eber / Manager / Missouri University of Science & Technology, MO

"If you have the knowledge and you have the skills, it's another great way to earn college credit."

(Richard L. Crothers @ 1:33)

"Come in and take the test and advance your career."

(Lower Third @ 1:38)

Debbie Thompson / Director / Triangle Education Assessments, NC

"Public, private, or home school – it doesn't matter, go ahead and take the CLEP test and get the college credits for it."

(Joleen Reynolds @ 1:44)

"Let's get you your college credit and let's move you forward."

Benefits of CLEP

Watch CLEP in Action!

Cindi Baumgardner

Parent

Home School

"As a home-school mom with a limited budget and a talented student, we were looking for alternatives to a four-year bachelor program. Our son was a high school senior and interested in pursuing graduate or higher level of studies. We found an accelerated program that worked with select colleges, and a huge part of that program was taking CLEP tests. By the end of his high school senior year, our son (age 17) had taken and passed 16 CLEP exams, earning him 69 credit hours. And he's prepping to take three more this coming year. That has put quite a dent in his accumulation toward a political science degree. He does his senior work this fall and spring. This fall he will be applying to graduate programs and law schools. Without CLEP tests, we could not have helped him to realize his dreams on this short of a timeline. It made all the difference."
Practice Test
Want to get a feel for the tests? Try out sample questions from actual CLEP exams in the subject of your choice.
CLEP Challenge
Try our new CLEP Challenge QuizUp trivia game - and discover questions inspired by CLEP exams