French Language
The following sample questions do not appear on an actual CLEP examination. They are intended to give potential test-takers an indication of the format and difficulty level of the examination and provide content for practice and review. For more sample questions and information about the test, see the CLEP Official Study Guide.
Question 2 of 10
You will hear a series of selections, such as dialogues, announcements, and narratives. Each audio selection is accompanied by a graphic or a picture.
Each selection is followed by one or more questions.
Listen to this dialogue and answer the following questions.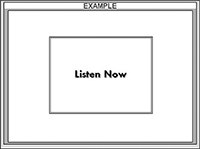 Listen Now (.mp3/541KB)
Script:
WA: Allo? Ah, c'est toi, Jean-Michel. Alors, est-ce que tu as trouvé un appartement?
MA: Non, Marie, pas encore. J'ai regardé dans le journal mais tout est trop cher pour moi. Les propriétaires demandent une caution importante, et je ne toucherai pas mon salaire avant la fin du mois.
WA: Eh bien, tu n'as pas encore regardé en ligne? On y trouve aussi des annonces des gens qui veulent partager un appartement, un trois pièces, par exemple.
MA: C'est après tout une bonne idée; malheureusement, pour l'instant c'est impossible—mon ordinateur est en panne.
WA: Mais, va donc à la bibliothèque!
Pourquoi est-ce que Jean-Michel n'a pas encore loué un appartement?
A.

Il n'y a pas d'appartements libres en ce moment.

B.

Il n'a pas encore trouvé du travail.

C.

Les loyers sont trop élevés pour lui.

D.

Les appartements sont trop petits pour lui.
Purchase and Prepare
Practice Test
Want to get a feel for the tests? Try out sample questions from actual CLEP exams in the subject of your choice.
CLEP Challenge
Try our new CLEP Challenge QuizUp trivia game - and discover questions inspired by CLEP exams